US Rails - With Scott Bricklin, Tom Gillam & Matt Muir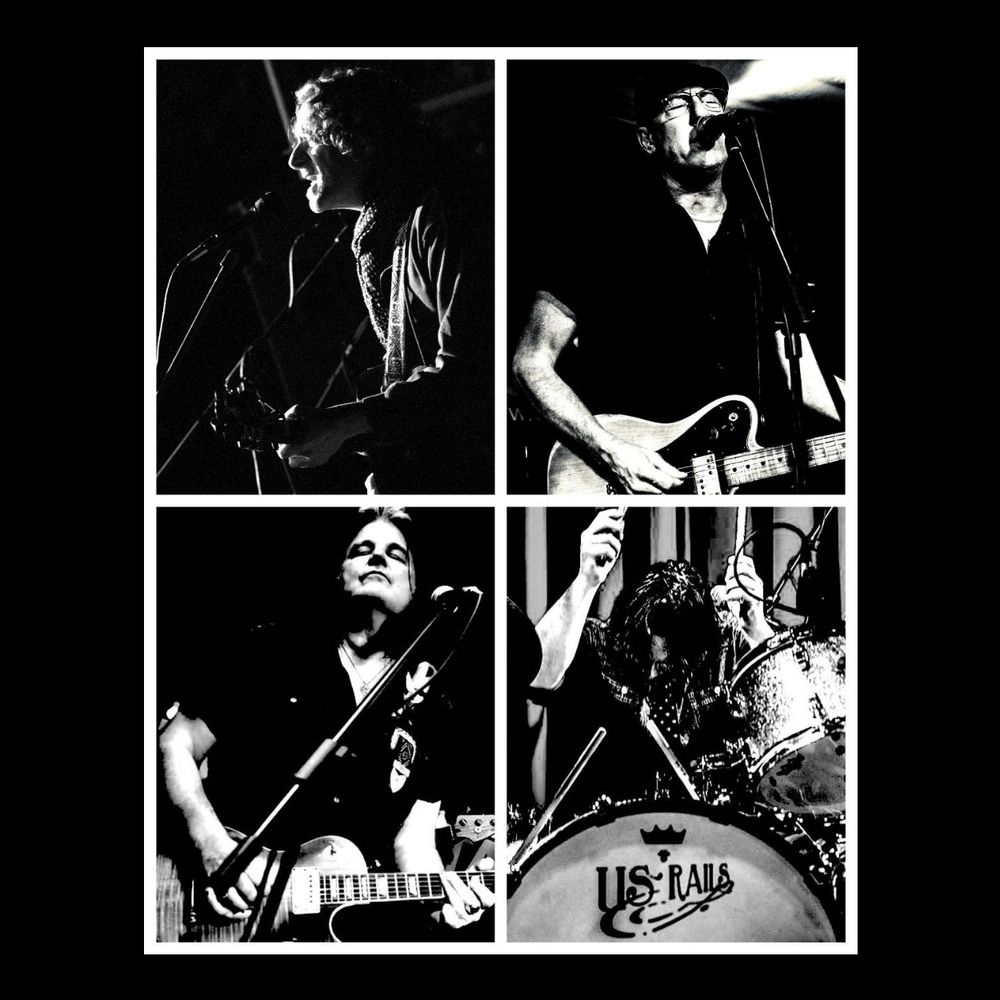 US RAILS continues their journey into the next decade with a brand new record, "Mile By Mile" (Blue Rose). Ben Arnold, Scott Bricklin, Tom Gillam and Matt Muir have made a conscious effort to open the gates and let their rock n' roll horses run free. This is not to say they've abandoned their trademark harmony vocal blend. It's still there front and center, but with more musical muscle underneath. Drawn from their collective influences and takes on rock and vintage R&B, the good-time recording atmosphere of the recording sessions, during a summertime week in Philadelphia, is palpable on each and every track. These rapidly changing times in the U.S. and around the world, show them wearing some of their thoughts and beliefs, as well as their hearts on their well tattered sleeves. "Mile By Mile", the bands 5th full length, original album, shows them growing even more comfortable and loose, diving into some of their ragged, rock roots in a collection of songs that have some of the feel of the past with an eye toward the future.
What was once just a one off, go-for-the-thrill experiment, has by now become a fixture in the lives of each member of US RAILS while they all continue to pursue thriving solo careers, producing, recording, and releasing countless albums on their own. It is their separate experience, spun together, which adds layer upon layer to the solid bedrock that forms the foundation of this band's rare and exceptional sound.
A well seasoned, veteran live act, this is a band who has shared the better part of their lives playing masterful, iconic sounding rock and roll in the shadows of the giants but continues to create, evolve, persist, and have a lot of laughs and fun along the way "Mile By Mile"
MEET THE US RAILS
Quite possibly the first of the 'Rails to release music in Europe, Ben Arnold made his first trip over in the mid 90's while signed to Columbia Records. Though he only returns there occasionally, in the Northeast of the U.S. he has built a slow and steady cult following, consistently releasing new and different sounds and playing countless shows each year. Known for his Randy Newman-esque piano and guitar stories of challenge, failure and redemption, bluesy and indie collide in Ben's rusty throated soulful growl. Always busy doing something music, he is also the lead singer for the Los Angeles based band Pistol For Ringo along with US Rails drummer Matt Muir.
Singer, bassist, guitarist - ist - ist - ist, producer, provocateur Scott Bricklin is simply a musicians musician. Soulful riot, screamer, dreamer and believer, Scott lives as an expat in Paris, France. A student of all British Invasion, Beatles and Stones. He was the driving creative force behind two other U.S. major label bands in the 80's and 90's and, where would the soundtrack to "Bill & Ted's Excellent Adventure" be without him!?
New Jersey was home to Tom Gillam for years. Rock and roll guitar was Tom's weapon. That was until Gillam discovered the country-fried licks and chicken fried temperatures of Austin, TX. Practically a discographic encyclopedia of all things rock, pop and soul music pre 1975, Tom is a master electric slide player and a wailing singer fronting his own Texas based band Tractor Pull, playing shows all over, from The Lone Star State, to Europe and beyond. Delivering essentially the same rock 'n roll message he always has, just with a little more twang!
Some drummers are just along for the ride. Matt Muir has his CDL. He has played every role in this band from studio rat to writer, co-producer and singer. His swinging sound and engaging grin behind the kit is just a small part of what Matt brings to the US Rails. Ben Arnold and Matt Muir both continue to kick it out living Philadelphia, PA.
Go To Store Page To Buy US RAILS MUSIC!